South Santa Rosa News – December 22, 2020
Can you afford to see your water bill double in the near future?
Economic turmoil and uncertainty have been constants over the past year. Numerous families in Santa Rosa County are struggling to pay their current bills. Some have lost jobs and dealt with sickness. Many are simply trying to put food on the table.
Despite all of this, three county commissioners have decided that our economic future is not their problem.
Specifically, the commissioners from the North End of Santa Rosa County have voted to repeal key provisions in our Land Development Code. This language directly protects our local water supply. It has served to keep that water supply clean for years.
According to the 2018 Water Supply Assessment Update, our county's water is collected from a single source known as Sand Hill. This is an area located between Blackwater River and Yellow River in East Milton. All residents of Milton, Midway, Navarre, Holley, and Gulf Breeze must use this source because local other aquifers contain high levels of salt water.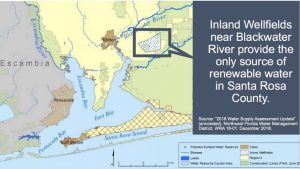 The residents of Santa Rosa County have only one source of clean water. It is naturally renewable every year through rainwater and this makes it all the more valuable. It must be protected.
The two county commissioners on the South End, Mr. Wright and Mr. Piech, understand these important facts. That is why they voted to protect our precious water source. Unfortunately, they lost the initial vote. The matter now goes to the state government and it will soon return to the Commission for a final vote.
So what happens if the North End county commissioners get their way? The county's single source of clean water becomes vulnerable. It is no longer protected, and within a few years the water will become contaminated. Once that happens, the only options left to us are extremely expensive.
Make no mistake. The costs of decontamination will be paid by us – the consumers.
Areas without protected water sources are forced to build plants to clean their water. These plants typically cost taxpayers at least $24 million dollars to build and maintain. Risking our greatest resource will cause our children to bear these costs for years to come. They will have to question the cleanliness of their water every time they turn on the tap.
It is time that our commissioners heard from us. This situation can change if local residents demand that our resources be protected.
The next Board of County Commissioners meeting is scheduled for 4:30 p.m., January 7, 2021 at the Santa Rosa County Administrative Center Board Room, located at 6495 Caroline Street in Milton.
You can also submit your concerns directly to the Board by emailing [email protected].
I look forward to joining you at the meeting to preserve our precious natural resources. That is, unless you are looking forward to paying twice as much for clean water.
Jason Clark is a member of Preserve Navarre, a local nonprofit seeking to promote the health, welfare, and safety of the Navarre area.